How to avoid catching flu from makeup

First step: Empty out your cosmetics case and clean it out.
Whenever one of your girlfriends asks to borrow your red lipstick or liquid eyeliner, we wouldn't blame you if gave them the side-eye as if they've lost their mind. It's not that we are against swapping beauty secrets, it's just that we are absolutely against swapping any germs now that flu season is upon us.
Think like a makeup artist
Ninety-nine percent alcohol, hand sanitizer and antibacterial brush cleanser are always stocked in Marino's kit. These essential makeup artist tools are ones that everyone should use to clean off the top of your lipsticks. Simply use a butter knife or Q-tip to scrape off the top layer of your lipstick. Then, dip the lipstick itself it in a small glass of alcohol. Place the tube of uncovered lipstick in the freezer overnight to kill bacteria, and it will be ready to use in the morning. A pencil sharpener is also handy as it's the quickest and most efficient way to keep your brow, eye and lip pencils sanitized. Sharpening with each use also guarantees the added bonus of a fresh tip, according to Marino.
This is also the perfect time to take stock of what you actually use. There's no point in keeping products that you don't use, and this will lessen the likelihood of holding onto something too long, Ricanati noted. To minimize bacterial growth, store everything in a cool, dry place. But if something looks discolored, toss it!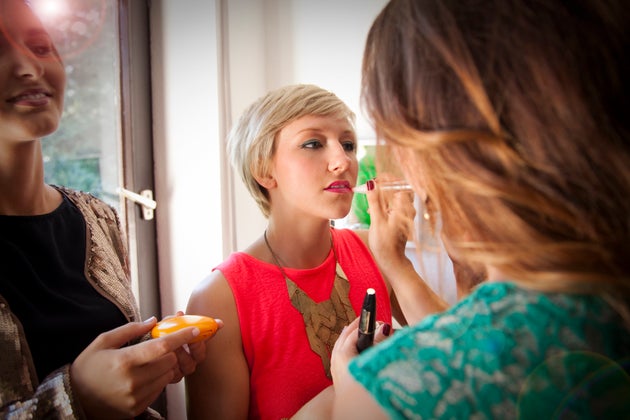 Not sharing is caring
Both experts wave the red flag on sharing makeup, especially lipstick, gloss and balm as the mouth is the quickest way to spread germs. Not to mention, the mixed use of brushes should be avoided at all costs. Lip brushes should only be used on the lips, and the same goes for eyes, Marino warned. And Ricanati cautioned that a mascara wand is extremely dangerous because it carries bacteria with every swipe and can easily be transmitted between people. Always replace your favorite lash lengthener every three months.
Consider making the switch to plastic
Marino prefers plastic over canvas cosmetic cases as powders and dyes latch on to the material, and start to look quite filthy. Plastic makeup bags can be easily cleaned with a cleansing wipe, making them look as new as when you first got them.

Don't ignore that sore
New facial rashes, including small bumps and red acne patches, should never be overlooked, according to Ricanati. See a physician if you recognize any physical changes in your skin, as it could be a sure sign of
germs
picked up from makeup. Keeping your hands clean is another great way to cut down on the spread of infections.